Laptop LCD Replacement $140 in Colorado Springs, Colorado For Sale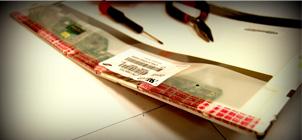 Price: $140
Date/Time:13 Nov, 09:43 a.m. EST
Type: Computer, For Sale - Private.

Laptop LCD Replacement - $140 for generic Models flat rate parts and labor!
Whether you have a fractured screen, overcooked backlight, or your LCD is simply not turning on and you have no idea what to do, our laptop LCD repair technicians will fix your broken LCD screen, and we?ll usually do it in less than 48 hours! For generic laptops cost including parts and labor starts from $140 Get your laptop back in 3 business days
We also offer pickup and delivery free of charge in Denver metro area!
Call now or visit us online for Free Estimate www.colaptoprepair.com 888.714.xxxx
Laptop Virus Removal | Laptop Data Recovery | Laptop DC jack Replacement | Laptop LCD Replacement | Laptop new keyboard install | Laptop Fan Replacement Laptop LCD Screen Replacement Service If your laptop lcd screen is cracked, broken, or otherwise damaged, it may be recommended that the screen be replaced. Our Laptop LCD Screen Repair experts can cost-effectively find you a effective replacement, including installation. We cover Laptop Brands for Laptop LCD repairs such as:
Acer Laptop LCD replacement
Sony Laptop LCD replacement
HP Laptop LCD replacement
Dell Laptop LCD Jack replacement
Toshiba Laptop DC Jack replacement
Apple Laptop LCD replacement
Gateway Laptop LCD replacement
Lenovo Laptop LCD replacement
And much more!

Price: $75
Time: 02:50 p.m. EST
Date: 05 Feb

Time: 01:38 a.m. EST
Date: 05 Feb

Time: 11:09 p.m. EST
Date: 04 Feb

Time: 10:23 p.m. EST
Date: 04 Feb

Time: 05:56 p.m. EST
Date: 04 Feb

Convert Youtube to MP3
Videotomusic is the easiest and fastest way to convert your favorite videos in audio format. It does not convert only...
Time: 02:24 p.m. EST
Date: 04 Feb