Colorado Springs Data Recovery Services in Colorado Springs, Colorado For Sale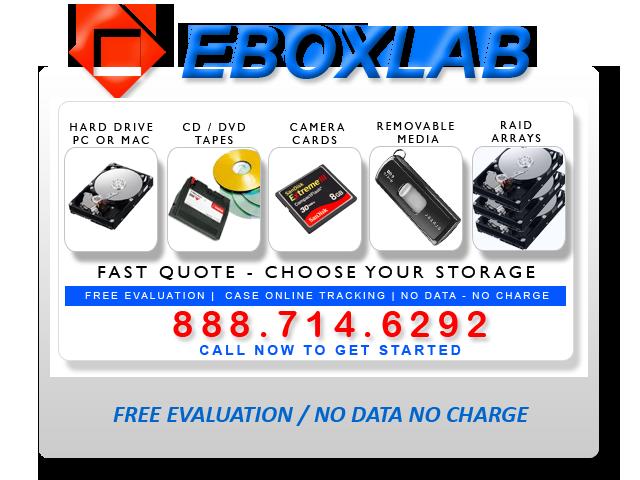 Date/Time:12 Nov, 07:13 p.m. EST
Type: Computer, For Sale - Private.

Hard Disc Recovery
Laptop Recovery
Server Recovery
Mac Systems Recovery
Raid Recovery
Memory Cards
Optical Media
Smart media
Tape Recovery
Colorado Data Recovery by Eboxlab provides a [ free data recovery evaluation ] and [ no data, no charge ] service guarantee to all of our clients.
Denver Data Recovery Services by Eboxlab, provide professional, fast, economical data recovery caused by hard drive crash, software corruption, a computer virus, human error, or a natural disaster.
With many years in the data recovery business, our engineers are experts at hard drive recovery, RAID recovery, Exchange & Mail recovery, Windows 98 / Windows XP / Windows Vista / Windows 7 files recovery, UNIX OS data recovery, Apple devices data recovery, tape and zip drives recovery, disk recovery, MS/MySQL database recovery, password reset & retrieval and much more. No matter how the data loss occurred, Eboxlab Data Recovery Services has the ability to recover it for you.
Open your free online case now!


Time: 12:39 a.m. EST
Date: 26 Sep

SAP MM Online Training in USA
What is SAP MM Module ? SAP MM is the materials management module of the SAP ERP software package from SAP AG that is...
Time: 05:24 a.m. EST
Date: 24 Sep

Time: 03:59 p.m. EST
Date: 21 Sep

SAP BASIS Online Training
SAP BASIS Online Training in USA SAP Basis is a IT skill. This is very demanding in IT companies. Basis consultant...
Time: 05:59 a.m. EST
Date: 20 Sep

Time: 01:11 a.m. EST
Date: 20 Sep

Best Bookmaker
Find the best online bookmakers for football and other sports. All sportsbooks are independently reviewed and rated....
Time: 11:26 a.m. EST
Date: 19 Sep